Lorena Clark
Founder & Managing Partner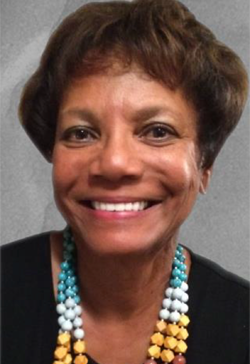 Areas of Expertise
Executive & Leadership Coaching

M&A Talent Assessment

Diversity Leadership Training


Customize Training & Delivery Facilitation

Organization Effective Consulting
Memberships
International Coaching Federation (ICF)

Society for Human Resource Management (SHRM)
Human Resource Planning Society (HRPS) Former Board Member
Certifications
ACC ICF


Benchmarks

Cultural Intelligence


DiSC

Devine Inventory

Emotional Intelligence
Energy Leadership Index
Five Factor
Leadership Architect
Leadership Versatility
Skillscope
Strength Finders
Boards/Affiliations
Lorena K. Clark is an ICF Certified executive coach and consultant with extensive experience serving multinational clients in a number of business academic and government sectors.
Lorena K. Clark, PCC CPC ELI-MP is the founder and Managing Partner of Pinnacle Leadership Consulting. She is a certified executive coach and management consultant with more than 30 years of leadership experience with multinational corporations, providing business strategies, talent and executive development solutions and coaching to companies globally. She is highly skilled in managing the human resource components of mergers, acquisitions and startups. Having worked and lived abroad her knowledge of international business issues, laws, regulations and customs allows her to advise companies that are expanding rapidly across international boundaries. Ms. Clark's human resources and business management experience was acquired while working for Fortune 500 companies and a large global organizations and research institutes such as RTI International, PepsiCo, BFGoodrich, and General Dynamics, GenCorp's Automotive and Pepperidge Farm. Having held several operations positions enables her to grasp the strategic implications of investing in people. In her consulting assignments, she utilizes her corporate and international business experience to coach and assist clients in solving business issues by devising practical approaches to formulating organizational structures, deploying and developing its leadership talent.
Pinnacle Leadership Consulting, providing business strategies, talent and executive development solutions and coaching to companies globally
Ms. Clark is also with FirstCap Advisors, a Boston–based venture capital firm specializing in early stage technology companies. She is on the Board of Advisor for Oak Capital Partners Consulting a consulting firm which services  small to medium size company poised to spin-off or divest their holding. She is an executive and leadership coach with University North Carolina Kenan-Flagler Graduate Business School, UNC's Executive Education Corporation and a number of corporate coaching clients.
Ms Clark is a Certified Professional Coach (CPC) having attained a Professional Coaching Credential (PCC). She also holds and ELI-Master Practitioner certifications as well as certifications in several assessments, feedback, talent development, and career planning instruments such as CCL's Benchmarks and Skill Scope, DISC, Leadership Architect, Voices, Strengths Finder, Five Factor, Cultural Intelligence, Emotional Intelligence, Leadership Agility, The Devine Inventory, as well as customized feedback and coaching instruments.
Ms Clark's consulting and coaching practice includes UNC's School of Medicine, Lowe's Home Improvement, CenturyLink, Marathon Petroleum, EXXON-Mobile, Textron, Skanska, UNC's Business School, UNC's Executive Education Corporation, Columbia University's Business School, White Lodging, (Marriot Franchisee). Ms. Clark's consulting clients include organizations such as Jamaica Money Market Brokers (JMMB) Kingston, Jamaica, Hughes/General Motors/ Opel in Europe. Nationwide Insurance, US Government's Defense Finance Accounting Service, Vulcan Materials Company
Consultation Request
If you'd like a consultation, please start by completing the form:
Deprecated
: Function create_function() is deprecated in
/services/webpages/p/i/pinnacleleader.com/public/wp-content/plugins/contact-form-7/includes/formatting.php
on line
54
Deprecated
: Function get_magic_quotes_gpc() is deprecated in
/services/webpages/p/i/pinnacleleader.com/public/wp-includes/formatting.php
on line
4796
Deprecated
: Function get_magic_quotes_gpc() is deprecated in
/services/webpages/p/i/pinnacleleader.com/public/wp-includes/formatting.php
on line
4796
Deprecated
: Function get_magic_quotes_gpc() is deprecated in
/services/webpages/p/i/pinnacleleader.com/public/wp-includes/formatting.php
on line
4796
Deprecated
: Function get_magic_quotes_gpc() is deprecated in
/services/webpages/p/i/pinnacleleader.com/public/wp-includes/formatting.php
on line
4796
Deprecated
: Function get_magic_quotes_gpc() is deprecated in
/services/webpages/p/i/pinnacleleader.com/public/wp-includes/formatting.php
on line
4796
Deprecated
: Function get_magic_quotes_gpc() is deprecated in
/services/webpages/p/i/pinnacleleader.com/public/wp-includes/formatting.php
on line
4796
Deprecated
: Function get_magic_quotes_gpc() is deprecated in
/services/webpages/p/i/pinnacleleader.com/public/wp-includes/formatting.php
on line
4796